OFFICE When and Where You Need It

Whether you're working in your office or on the go, you get a familiar, top-of-the-line set of productivity tools. Office applications —always the latest versions—let you create, edit, and share from your PC/Mac or your iOS, Android™, or Windows device with anyone in real time.

---
Office 365 keeps itself up to date, so you always have the latest features of Word, Excel, PowerPoint, and more.

Whether you're working online or off, from your computer, tablet, or phone, Office 365 has you covered.

With low upfront costs and the flexibility to add users and services as needed, Office 365 provides the ROI you need to succeed.


---
Tools For The Professional

Your business-class email address with your company name on your domain.
Build name recognition, and market your business with customized marketing materials that are easy to create.
Connect better with customers and colleagues with a range of communication tools, from email and IM to social networking and video conferencing.

---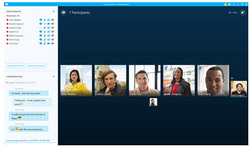 On Line Meetings

With online multi-party HD video conferencing, it feels like working together face to face, virtually anywhere.
Meet from wherever you are. In the office, on the road, or with a client or supplier? Video meetings can be quick and easy.

---
---
Collaborate On Files From Anywhere
Collaboration made easy. Access your files across your devices and edit documents together at the same time.

1 TB of personal document storage.

Always have the latest version of files.
Having your files stored online makes it easy to store, organize, and share them, so you can work on documents with teammates, share reports with business partners, or connect with customers. Your files are always up to date, so everyone has access to the latest version.

---
Security and Privacy

Built-In Security
• Service-level security through defense-in-depth
• Customer controls within the service
• Security hardening and operational best practices


Continuous compliance
• Proactive processes to meet your compliance needs
• Customer controls for organizational compliance
• Independently verified to meet evolving standards

Privacy By Design
• Your data is not used for advertising
• You have extensive privacy controls
• You can take your data with you when you want


Transparent Operations
• You know where your data resides and who has access
• Visibility into availability and changes to the service
• Financially backed guarantee of 99.9% uptime

---
If you currently use Microsoft Desktop Office Products and have heard about Office_365 Cloud Based products and are curious if they are a good fit for you...

Contact Us!